Defining Moments & French Dinners
" I love this one! It tastes like crab! "
My excited observations were met with confusion, amusement, and laughter as I sliced myself another sliver of the pungent cheese camembert. As I bit through the soft, dry crust and into the smooth, creamy glob, like slightly melted brie, I indignantly defended my astute observations.
In the end though, despite finishing half the wheel myself and reconfirming with each bite, my
French teacher Nathalie, her family, and my friend Jan were convinced that I was crazy.
Walking back to the hostel that night, I was floating on a high— I just had a French dinner with my French teacher in France! Four years ago— I wouldn't have believed anyone who told me I would be in France. After all, four years ago, the only words I knew in French were merci and monsieur! to next ¶
---
---
( A typical French dinner )
1.
appetizers, often consisting of crudités, or a salad;

light salad, and some crackers
---
2.
a main dish, usually meat or fish with a side of vegetables, pasta, rice, or fries

quiches lorraines and pizza with red wine and rosé
---
3.
salad (absolutely not compulsory)
As said, absolutely not compulsory, nor was it for my dinner.
---
4.
some cheese
camembert, comté, blue cheese, garlic cheese, 1
---
5.
dessert: yoghurt, fruit or cake

buche glacée 2
---
6.
not noted

verveine3, Tea
---
1 On a wooden board with a glass cover, I got to sample all sorts of French cheeses!
2 Typically eaten to celebrate New Year's; however, it was still delicious, light, and packed with flavors.
3 verveine, from a fragrant leaf that smells of citrus and mint, is liquor served in cute little glasses over freshly crushed ice!
---
All in all, my favorite part of a French meal is that experience, not the actual food— though delicious. It is a time to take a breath, enjoy the company of friends, and fall in love with life. There is no rush, nor the lethargy that often accompanies my meals in America.
---
---
frame courtesy of pale
We never know where life may lead— slight detours may lead to radical changes, and in that moment of taking the detour, your life may have changed irrevocably. Four years ago, that moment happened when I added a French class to my class schedule of freshman year in college. The impetus was that as I couldn't take Spanish, I would simply take another language.
By the end of my first quarter, I had caught the French bug and through my wonderfully encouraging teacher, I knew I had to continue taking French classes. Taking night class at the extension program for a few quarters, I eventually took literature classes at the main university again as I could fit them.
I finally realized what I wanted to do with my life wasn't programming, though it can be fun at times, I want a life of languages and art. I want to interpret to
help others. With that in mind, I decided to go to Europe after graduation to see how far I had gotten with my languages.
On my seventh day in Europe, I met up with my French teacher Nathalie in Toulon, a city in Southern France. She gave me a tour of the city, the beach, and invited me and my friend to her home where I got to experience what I had previously only read about in books— multiple courses accompanied by wine and finished with a delectable plate of cheeses, including my favorite— camembert! Who would have guessed the little changes that grew to transform my life? All I did was decide to follow my heart.
What have been some defining moments in your life? And what is your favorite cheese? Is it camembert?! ♦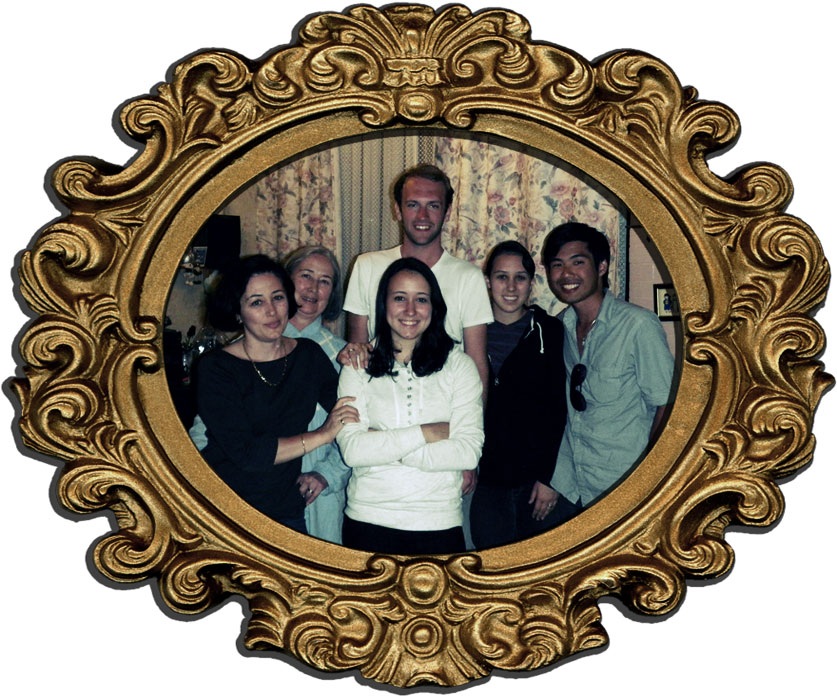 French teacher, her family, Jan, and I after a great dinner! Frame courtesy of EveyD.